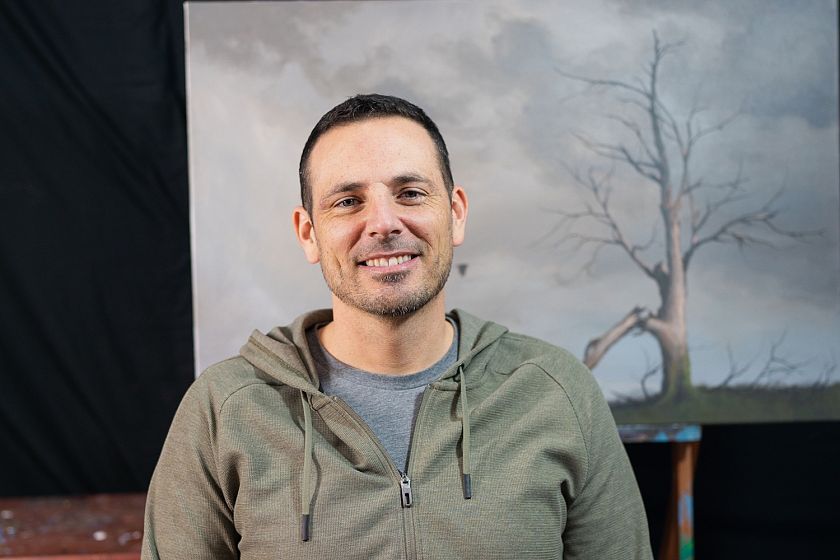 Tim Gagnon
Tim Gagnon
I was born in Northern Maine, on a July afternoon, 1980. As a young child I was encouraged to draw and color. My mother would always draw me pictures, and tell stories with her drawings. The older I grew, the more I enjoyed drawing. I would find myself drawing every day. Most of the time I drew animals, or cartoons. I found that drawing was a good way to express emotions, or to vent in a non verbal way.
Throughout my school years, I drew and painted on my own. I attended a small community school which didn't offer an art program. My class consisted of about 40 children. I would enter any art or writing contest there was. This was good for me, because I could gauge where I was in artistic ability. I won a lot of contests, and began to feel confident that this is something I would want to do for the rest of my life.
My father worked for Loring Air Force base which closed, forcing us to move away from Maine. At the age of 12 my family relocated to Blackwood, New Jersey. This was very intimidating for me, because I had lived in a small community for so long. A few months after we moved I began attending CW Lewis School, which was much larger than I was used to. As I slowly adjusted I found many opportunities that weren't available to me before. My new school had art classes, an art club, and a lot of encouragement. On Earth day 1992, I entered an annual art contest for my school. A few weeks later I found that I had won for my class. I began to get more and more engrossed in art. Then at the end of the school year, I found out that my family was moving back to Maine.
After I moved back to Maine, I lost some of the interest I had in art, and focused more on sports. Through high school, I played basketball, soccer, golf, volleyball, and baseball. I also began dating. I had no extra time for art, and it was put completely on the backburner. I soon graduated, and had no idea what I wanted to do in life.
I attended the University of Maine at Presque Isle, as an undecided student. I soon quit school after a semester of boring "core" classes. After that, I started working for a tax software company. I learned the in's and outs of a small business, and was really interested in the company. After a year, I started to attend the University again part-time, and I decided to take art classes. After a semester, I declared myself an art major, with concentration in fine arts. I studied under Anderson Giles, who inspired me to let my inner emotions out on the canvas. During this time, I was still working for the tax company, which after the three years I was there, sold out to a larger corporation. After 6 years of working and attending school, I quit my job, and began to paint full time. I am now a full time artist, and couldn't be happier.
I gain my inspiration from the human mind. I find it fascinating how humans think, and act. We try so hard to be individuals, to be different… but by doing so, we are all the same. I find nature to be the most beautiful thing in the world, yet, we are so quick to destroy it. My style is defined by my mood. I can paint flowing clean landscapes, if that is how I interpret it, or, I may paint thick, slashed paintings, that have emotion and energy. It is also fun to try to interpret other peoples thoughts. To have someone explain an idea to me, and see how close our imaginations are. It always turns out interesting. I enjoy painting things that have meaning, or energy. I am always thinking when I'm painting. I don't try to reproduce images how they are filtered through our eyes, but how I envision them in my mind.
Accomplishments:
Top 50 Emerging Artists of 2012 by Art Business News
2011 Art Expo Challenge Winner (out of over 700 artists)
Gagnon's Artwork is collected in over 30 countries, and all 50 states. Also in a variety of corporate collections.
Has taught over 10,000 people his techniques worldwide online.
Over 150,000 Youtube Subscribers
Over 214,000 Facebook Likes
Published in multiple publications; Art Business News, American Art Collector, Manhatten Arts, Empty Easel, Art World News
Had one man show for grand opening of Wintergreen Arts Center Baressi Financial Gallery. (Maine).
Multiple single artist shows and artwalks.
Represented by Publisher/Art Dealer: Lyrical Fine Art (Northport, NY)
Work in the following galleries:
Eclectic Image Gallery in Maui, Hawaii.
West End Gallery, Richmond, VA
21st Street Gallery, Virginia Beach, VA
The Village Gallery, Lake Forest, CA
The Corner Vise Gallery, Zionsville, IN
Dzian Gallery, Natick Collections, Natick, MA
Leawood Fine Art, Leawood, KS
Max Black Fine Art, Granger, IN
Rich Haines Gallery, Park City, UT
Published by Penny Lane Publishing, New Carlisle, Ohio.