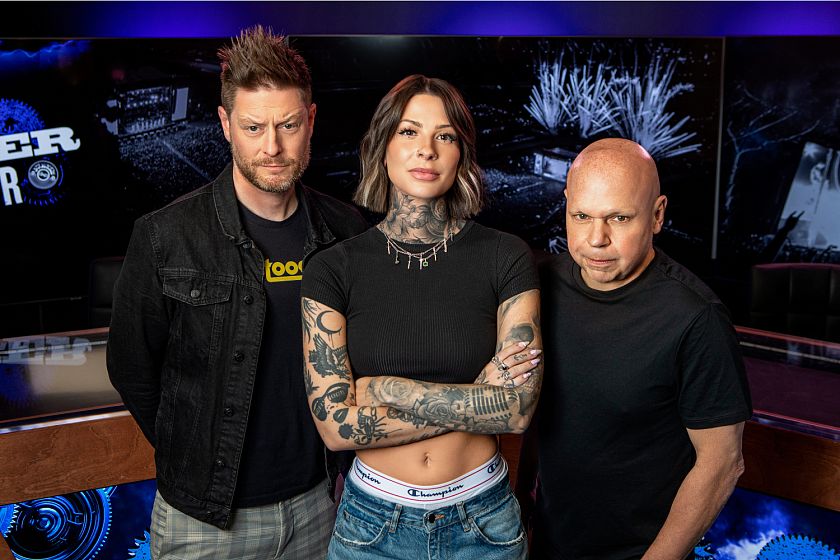 The Power Hour
The Power Hour
POWER HOUR breaks down the biggest news and latest videos in rock. Fun, fast paced, and full of music with an explosion of witty commentary! Hosted by notable rock experts and enthusiasts Matt Pinfield (MTV, VH1), Caity Babs (SirusXM's Octane), and Josh Bernstein (Revolver Golden Gods, Loudwire).
MATT PINFIELD
Already a broadcast legend, Matt Pinfield has spent four decades in the mainstream media, hosting multiple MTV and VH1 television shows including the influential 120 Minutes. A respected music historian, he's done commentary and narration for 100+ documentaries with networks like CNN, FOX, MSNBC, ABC, CBS, NBC, USA, NAT GEO and VICE. In 2022, received the first ever MUSEEXPO International Rock Icon Award and the Hollywood Walk Of Fame Award simultaneously for his contributions to music, broadcasting and the arts. His memoir "All These Things That I've Done" was published by Simon & Schuster and debuted at #3 in Amazon's Music Books chart. He is currently on the Los Angeles rock radio station KLOS and has hosted "Flashback" a classic rock history show for Westwood One, which airs weekly on over 180 FM stations in the US and Canada for the past decade.
CAITY BABS
You know her best as the popular host of SiriusXM's OCTANE and TURBO where she is on twice a day, seven days a week. Caity Babs not only lives and breathes Rock & Roll, but loves traveling around the world to catch it all. A lover of live music and festivals, you can see her weekly as the host of the Power Hour for Danny Wimmer Presents and Twitch. Caity and Kellin Quinn (Sleeping With Sirens) served as c-hosts for the hit YouTube series No Cover, featuring Alice Cooper, Lzzy Hale and Gavin Rossdale. Her other credits include on-camera work for Alternative Press, AXS TV, Loudwitre and the Vans Warped Tour.
JOSH BERNSTEIN
With 20+ years in the music, media and live event industries, Josh Bernstein has established himself as a respected, passionate and knowledgeable power player with achievements across television, film, live production, graphic design, publishing, marketing and digital realms. Currently a partner and President of Z2 Comics, Bernstein has been widely recognized as the cofounder, producer and creative engine behind several globally recognized events and brands including the Revolver Golden Gods Awards, XXL Freshmen Shows, The AP Music Awards, The Loudwire Awards, The Rock & Roll Roast Series and Hit Parader's No Cover TV show; working in partnership with Apple, Amazon Music, AXS TV, Viacom, Twitch, WWE, SPIN, The Grammys, Sixthman and Danny Wimmer Presents.